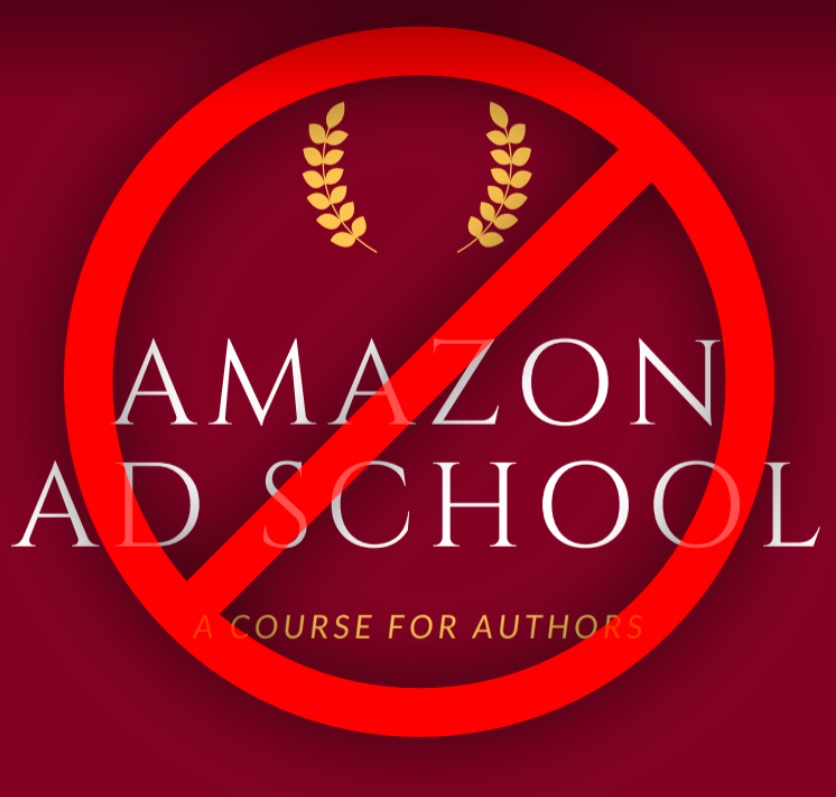 TLDR: 5-Day profit challenge = okay; paid version of amazon ad school = 100% waste of money

Introduction:
Every quarter (Jan, April, July, Oct), Bryan Cohen runs a "free" 5-day Amazon Ads Challenge. This is a decent intro to the amazon ads dashboard and has the potential to show you a cool new gadget/program or two. However, it's very clearly a bid to suck people into buying the upsell version of the Amazon Ads Course run by Cohen's Amazon Ads School. I knew that going in and still fell for it because I'm kinda a sucker that way.
Disclaimer:This is 1, count 'em 1, person's experience. I'm a paying customer to the tune of $297. That gives me the right to give my 100% honest opinion on my experience thus far.

Additional Comments:
Am I saying you should avoid the 5-day ad profit challenge?
Not necessarily. It's good to get a lot of perspectives. There is the chance for learning some cool things like bklnk.com, which can help you out with amazon categories. It's got some decent info. It's also got the beginnings of his ad system which is kind of a relevance nightmare.

By the time I figured out that a lot of the methods Cohen was pushing were trash, it was well beyond the 30-day money back guarantee. That's totally fair from a business point of view. The reason I'm taking the time, spending energy and effort to put my thoughts down is because I really wish somebody had warned me. I didn't do enough research into Bryan or his program. If I had, I would have saved myself $297.

I think I even knew it then. Cohen doesn't really make his money off of ads. His main source of income is people like me who ignore the subtle warning signs of the hard sell for the upgrade to his paid course. $297/person minimum covers for a heck of a lot of crappy, mediocre ads. (I get that the man has bills to pay, and he's obviously done well for himself.)

What's in the paid version of Amazon Ad School?
All the past challenges. They're highly repetitive. I think his October 2020 challenge used video from the July 2020 challenge. I get that (not reinventing a wheel), but at the same time, that means there's no real added value. Several of the videos are literally 3 hours of the Q&A sessions. The likelihood of learning anything from those is next to nil. You also get exclusive invites to other webinars which will come with their own hard sells on upgrading (sign up in the next 30 minutes and get ___ sort of deals)
one month of email support. – That alone shoulda warned me off. Customer service shouldn't have an expiration date, especially since the videos in the free challenge hint at the fact that it takes 60-90 days to fairly evaluate the program and method. The mascot is the zen lemur. The lesson being, it takes time and patience.

Access to a private FB group where a few people Cohen hires because they do well with his method answer questions.

If you want dedicated 1-1 help, you have to cough up $1000 or more; I forget the exact value. I can't say if that's worth it because my semi-stingy side saved me the trouble of dropping that much cash and lighting it on fire.
You can even get a "discount" on their ridiculously priced blurbs. That's a different discussion. I'm not overly impressed by their method of writing blurbs. I think they have a lot of success at it because they have the right audience. Thousands of authors do the "free" challenge. That in and of itself is a top-notch ad for their other services. Will their blurb help sell a book? Likely, but that's also probably because they're teaching amazon ads.

What is the Amazon Ads School method for running ads?
It boils down to set up a hella lot of ads at very low bids and pray for the best. You use things like Instant Data Scraper to generate thousands of keywords and set up ads that contain 100-150 keywords. Then, months down the line, you see if any of the keywords got you clicks and throw these into new ads.

Does it work? Will you get some sales?
Sorta. That really depends on what kind of books you sell. If your book and series have enough general appeal, you may make a small profit with this method. You're more likely to blow money on stupid keywords though. I'm counting a stupid keyword as something that puts your book before somebody who would completely not jive with your book.

I think what happens is that some authors are at flatline or just above flatline in terms of sales, so when we see a sale, we get all excited. Cohen says that amazon's ad dashboard is completely unreliable in terms of tracking. While I can somewhat see this, I think that's more the fault of the ad being set up than the dashboard. If you set up an ad to go to paperback and ebook and some people end up buying the other, the ad won't register it as being from the ad.

His philosophy is a click is a click is a click. Not fully convinced either way on this point, but nothing happens in a vacuum. If I'm talking about books on Facebook and somebody clicks on one of my ads and buy's something a few months later, should the ad get the credit. He basically says to count all sales as being from the ads. That too should have warned me this would be bad advice. Maybe somebody who sees an ebook ad chooses the audiobook. That's a very real possibility. But an accounting method like this is more likely to just give you a false sense of the ad's worth. If you want to learn to create effective ads, just counting everything is a terrible idea.

If you put your book in front of enough people, somebody will buy it. But if you're looking for your audience of long-term readers, this is not a great path.

Will I use the method?
Yes and no. For certain books that had the ads set up this way, I am letting them ride until I can fix them with better methods. I'm going to be moving toward methods talked about in Deb Potter's Amazon Ads for Authors book and Ryan Robert's Amazon Ads Unleashed book. Though these books aren't perfect or a fix-all solution to all your ad woes, they are a good starting point. (I don't get anything for saying that. This is all personal experience.)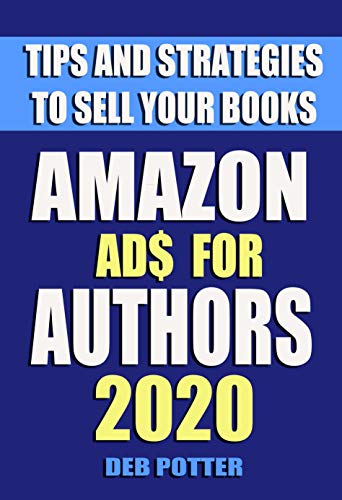 I'm also hearing good things about Mark Dawson's courses. Haven't bit the bullet and tried them yet, but maybe someday. After I recover from torching this money.

Will I stay in the FB group?
Probably. I paid for it. Might as well lurk and see if I can get any redeeming value out of it.
Conclusion:
The Ad Profit Challenge (free version) is a decent intro to the amazon ads dashboard if you've never done anything with it or have only dabbled in the past. It will cover things like the types of ads you can use. If you get nothing else out of this article, here's the key point: do NOT waste $300 on the upgraded paid course. It doesn't add much of anything above and beyond the free course. If you did 2-3 free challenges you'd get about the same value.
Audiobook Promotions …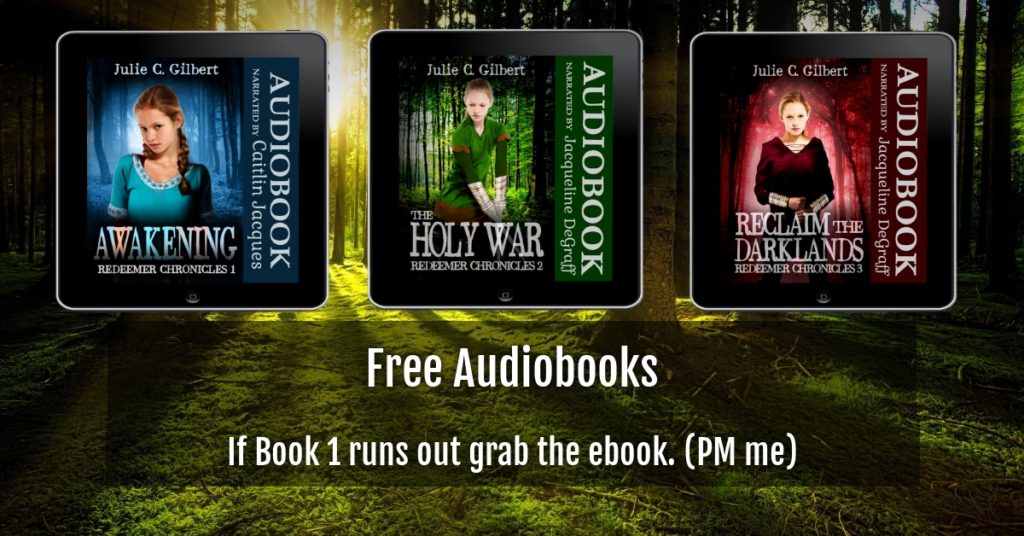 Many of my 42 audible titles are listed on Audiobooks Unleashed.
Whether you're looking for mystery or suspense or fantasy, I've got a title for you. Free codes are probably on audiobooks unleashed.
Normal links go to audible. *The Amazon labeled links are affiliate links. That means I get a very small payment from Amazon if you go through with a purchase.*
Note: Filter by US if you're looking for those codes as many titles are out.
Ones I think may still have US codes: Reshner's Royal Ranger, Never Again, Innova, The Golden City Captives, The Holy War, Reclaim the Darklands, Eagle Eyes, Treachery Makes it Tense, Ashlynn's Dreams Shorts, The Dark Side of Science, Ashlynn's Dreams, Nadia's Tears, Malia's Miracles, and Varick's Quest
There are plenty of UK codes, but not many US ones left.
Redeemer Chronicles (Fantasy)
Awakening – Redeemer Chronicles Book 1, MG fantasy (Amazon) (free codes)
The Holy War – Redeemer Chronicles Book 2, MG fantasy (Amazon) (free codes)
Reclaim the Darklands – Redeemer Chronicles Book 3, MG fantasy (Amazon) (free codes)
River's Edge Ransom – Prequel to Redeemer Chronicles (Amazon) (email devyaschildren @ gmail.com for free codes)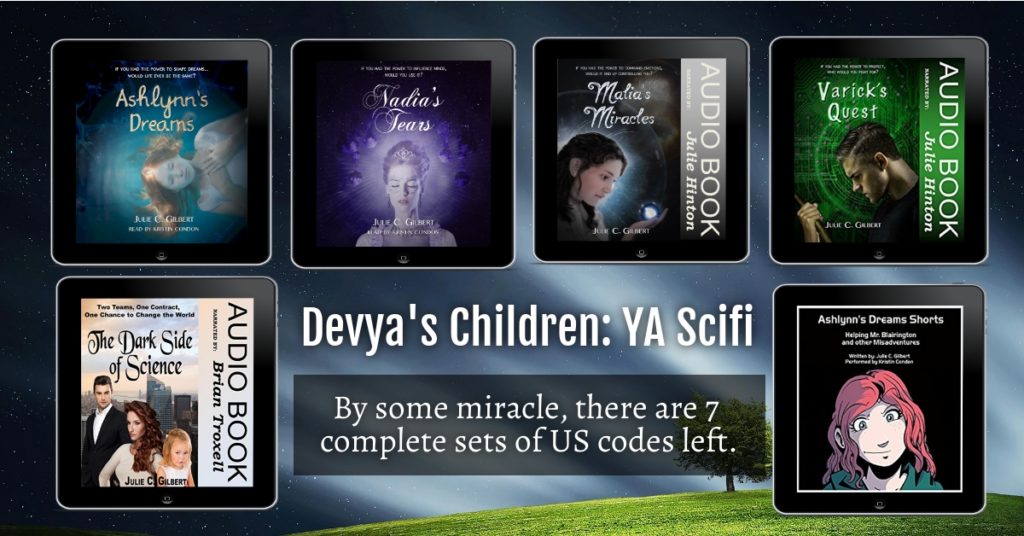 Devya's Children Series Links:
Ashlynn's Dreams Shorts – short stories featuring Jillian. (Amazon) (free codes)
The Dark Side of Science – official prequel to Devya's Children; Genetically altered kids fight for the right to live. (Amazon) (Please email devyaschildren @ gmail.com for free codes)
Ashlynn's Dreams – Genetically altered Dream Shaper learns her gift. (Amazon) (free codes)
Nadia's Tears – Jillian tries to awaken her sister, Nadia, from a coma. (Amazon) (free codes)
Malia's Miracles – Jillian and her siblings try to save a friend's mother. (Amazon) (free codes)
Varick's Quest – Jillian and Danielle get kidnapped. Nadia's also in trouble. (Amazon) (free codes)
More Scifi:
Reshner's Royal Ranger (epic sci-fi) just made it there. (Amazon) (free codes)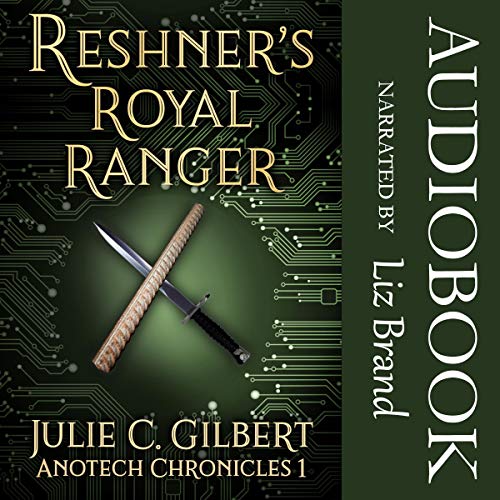 Guardian Angel Files:
Spirit's Bane – Allister and Mina are training to be Guardians. Satan's out to get them. (Amazon) (free codes)
Kindred Spirits – Mina's exiled to Earth. Allister's stuck in the Heavens. (Amazon) (free codes)